LEVEL 7 DIPLOMA IN STRATEGIC MANAGEMENT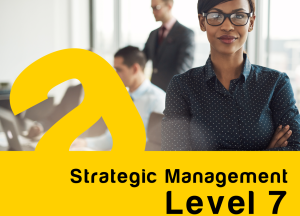 "This qualification will extend and deepen the skills required 
of contemporary managers in today's economy."
Stuart Wall, Cambridge International Education Centre
Awarding Body:
ATHE
Level 7 Extended Diploma Core Units
• Strategic Planning
• Finance for Strategic Managers
• Research for Strategic Development
• Organisational Behaviour
• Personal Development for Leadership and Strategic Management
Level 7 Extended Diploma Pathways
Our revised Level 7 qualification allows learners to specify a pathway in an area of their choice by selecting the relevant modules. The optional Level 7 pathways are:
• Finance
• Marketing
• Managing People
• International
We have two sizes of qualifications at Level 7 – 60 and 120 credits.
Modules Recognition
This qualification is recognised by a number of Higher Education Institutes, allowing learners to progress to Masters and Doctorate level programmes.
The ATHE management qualification is graded, with learners either failing or achieveing a pass, merit or distinction. The revisions provide a flexible route for learners who have already achieved qualifications at a lower level as well as for learners who have prior management experience in the work place.
Link to: ATHE Official Website
---